A traditional recipe for Thanksgiving dinner, this is one of my favorites. This recipe and lovely photo comes from
www.campbellsoup.com
.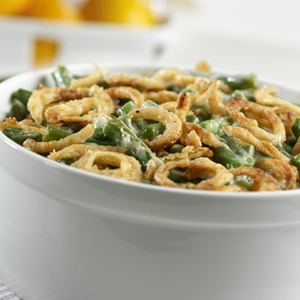 Green Bean Casserole
1 can Campbell's Cream of Mushroom soup
1/2 c. milk
1 tsp. soy sauce
1 dash pepper
4 c. cooked cut green beans
1 1/3 c. French's French Fried Onions
Mix soup, soy sauce, pepper, green beans and 2/3 c. of the onions in a 1 1/2 qt. casserole. Bake at 350 degrees for 25 minutes or until hot. Stir and sprinkle with remaining onions. Bake 5 more minutes then serve.