I am one of those people who could spend an entire day watching celebrity chefs at work on tv. A lot of the meals they prepare are a little too complex or not practical for my tastes, but I have learned so much from just watching and of course all the great ideas for new meals I receive from watching them can't be beat! So when I received two celebrity chef cookbooks in the mail the other day I was pretty excited to see what new ideas lay in store.
Although I have never seen Dave's television program, I have heard lots of good things about him before and was excited to take a look at his newest cookbook. One thing I really enjoy about this book is the photographs. They are so colorful and almost every recipe has a photo. I also like that the recipes are geared towards home cooks. They are all fairly simple and include ingredients that are easy to find and not too pricey. A definite plus! I also really enjoy the intros to each recipe that either give added information or a history of the recipe. I have not tried any of the recipes yet but do have one down on my list for the next couple weeks (check back for a review!) . A couple of the recipes that really caught my eye are
Roasted Red Peppers and Ricotta Crostini
(only 6 ingredients and they look so good!) and
Pan Grilled Skirt Steak with Smoky Cowboy Beans and Minted Chimichuri Sauce
(all the flavors my family loves and it sounds very simple too).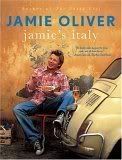 I have only seen Jamie a couple of times on TV and really love his easy-going approach to cooking. That along with Italian food... this HAS to be a great book was my very first thought :) This book is like a story and cookbook combines. It tells the tale of Jamie's trek around Italy... all the people he met, food he ate and sights he saw. It was a very interesting read. The recipes are amazing. They are all totally authentic Italian recipes gathered on his trip around the country. One drawback to this book, for me at least, is that a lot of the ingredients are not available to me where I live. Also, some of the things served are not things my family would eat (like squid and wild boar... as if I could buy that here anyhow...). The photography is gorgeous as well. A word of caution though... if you are squeamish, skip the meat chapter. In his efforts to show the "real Italy" there are a few pretty gruesome photos of butchered animals. However, all in all it is a great book. If you want to prepare REAL Italian food I would highly recommend it. A couple of recipes that caught my eye were
pizza fritta (fried pizza)
and
pasta al forno con pomodori e mozzarella (baked pasta with tomatoes and mozzarella)
.
If you're looking for a new addition to your cookbook shelf or a great Christmas gift, I'd suggest you try either of these books. They would be a great addition to any cookbook collection.